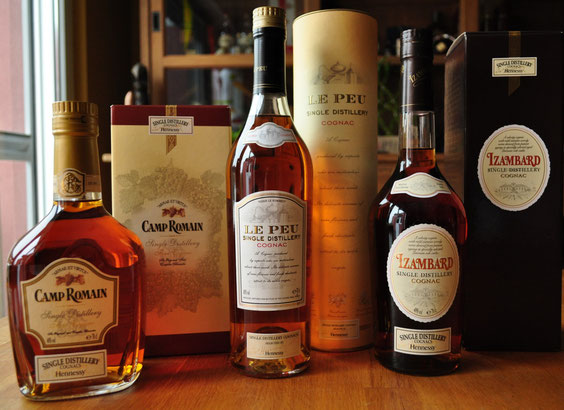 Hennessy Single Distillery Serie 
Le Peu Built in 1962, the distillery is located just in the heart of premier Vintage Cognac region, "grande champagne" and more specifically Juillac-le-coq. Property of the House, the distillery gathers ten (alambic charentais) copper stills traditionneles distilling wine brought by couriers surrounding during the distillation.
Hennessy Le Peu is a Cognac produced by experts who are meticulous about their work.  Its delicate aromas of vine flowers and fresh hazelnuts attest to its noble origin.  The style of Le Peu is light, well rounded and very floral. In one word: 'Elegant'.  The crumbly chalk soil that surrounds the distillery is similar to that found in the Champagne region of northeast France. 
Hennessy Le Peu's colour is bright, pale gold amber and the aroma has persistent flowery notes mingling with those of fresh hazelnuts.
Camp Romain Cognac is characterised by a stony-earthy taste, enhanced by a delicious note of warm bread. This fine Cognac has an original and complex character.  The style of Camp Romain is original and unusual. Camp Romain has a light amber colour and an intense and lively first nose with stony, earthy overtones. The tastes of light flavours, grilled almonds, slowly enhanced by an impression of warm bread make this Cognac special.
Camp Romain has the particularity to be distilled by one of the only women distillers in the Cognac region. Betty Lesueur learnt the art of distilling from her father, as she accompanied him to meet with local wine growers.  The Camp Romain distillery was founded in 1907, near a road built by the Roman Emperor Agrippa. The distillery is built on the site of a former Roman army camp.
Izambard This rounded and mellow cognac draws its qualities from the skills of several generations of distillery craftsmen with a deep respect for the methods of traditional double distillation and careful ageing in oak casks. It reveals a sensual and velvety texture with natural nuances of oak and summer fruit. The Izambard family's attention to every detail has produced an exceptionally fine cognac which Hennessy is proud to select as an example of the highest level of the distiller's craft.
The Izambard family have been master distillers since 1833. The Nordic-sounding name is most certainly connected to the Visigoth and Celtic invasions. Authentic, original and family made, Izambard has its own unique character. It is a velvety Cognac with mild autumn woody notes, derived from patient ageing in specially selected Limousin oak casks. The style of Izambard is well balanced and rich, with great character. In one word: 'Sensual'. Izambards deep and golden amber colour is a testimony to its long ageing. An aroma of a light floral attack, opening into a powerful combination of oak and forest smells. And round, ripe fruit flavours taste turning slowly into rich woody notes.