HENNESSY Red Tome book "Napoleon"
This Napoleon quality with this set "Bibliotheque" was created in 1994 and this product is still manufactured. It is aimed specifically for Duty Free and the countries of the Eastern Europe. Content bottle 70cl.The outcase of the book referes to some warehouses Hennessy has in the city of Cognac "La Faiencerie & La Comédie"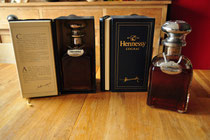 Hennessy Tome Book Blue 'Silver Top'
Released in the 1980's.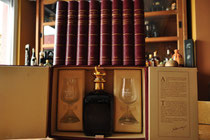 HENNESSY Carafe Bibliothèque
It is a Hennessy Library Decanter which was dedicated to those consumers who prefer to take their time to savour the pleasures in life, such as the joy of collecting fine books.
The Library Decanter is inspired by the beauty of masterpieces of literature: like the masterpieces created by the Hennessy Cellar Master, which he expresses in the language of eaux-de-vie, drawing upon the rich resources of Hennessy's forty ageing warehouses.
During the prohibition years in the USA, many consumers used to cut out the pages of old books so as to hide bottles of their favourite Hennessy.
This fine cognac was exclusively available for Duty Free Consumers and unfortunately is now discontinued.