HENNESSY VS editions
Since 2009, HENNESSY has celebrated its art of blending by creating a special-edition bottle of its Very Special cognac featuring a blend of artists with very different styles. The result was a unique design that gave the iconic Very Special bottle a surprising, artistic feel, not to mention, making it a much sought-after collector's item.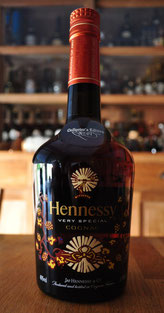 HENNESSY VS N°1
Released 2009. Artists Kesh and David Burrows
Limited editon 70cl bottle .
The very first time Hennessy wanted to portray an "artist blend", the Maison contacted Kesh and David Burrows. The label created by these two rather different artists displayed a unique style that still recalled the traditional, carefully blended Hennessy cognac within. Kesh & Burrows also collaborated on a series of paintings together, proving that the most rewarding results can come from the most unusual combinations.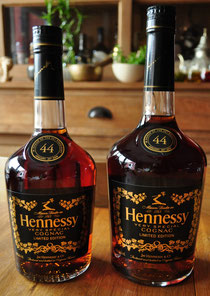 HENNESSY VS Obama 
This beautiful Limited edition released in 2009 to honor OBAMA the 44th president from the USA.
Limited to 180.00 for 75cl & 250.000 copies worldwide for the 1Liter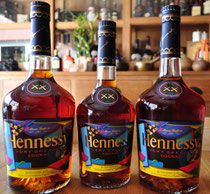 HENNESSY KAWS
Limited edition released in 2011. New York graffiti artist.
750ml ~420.000 copy's
1L ~ 210.000 copy's.
KAWS started his art career inauspiciously: tagging walls and freight trains and subverting billboards. However, his bold colorful style gained him quite a following. Tapping into cartoon characters from his youth and manipulating media icons, KAWS's work places art into a wider cultural context. Today KAWS' work is in notable galleries worldwide, and it seems every tastemaker is clamoring for his vivid graphics and vinyl toys.
KAWS was the perfect choice to design Hennessy's Very Special. label: he always approached art as a way to reach people. The limited-edition bottle was destined to become a much sought-after classic, with traditional Hennessy design elements picked out in hot colors and bold lines plus, of course, KAWS' signature double-X gracing the bottle's neck.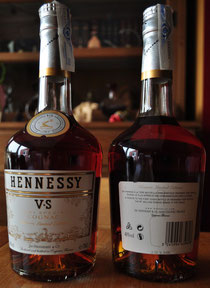 HENNESSY Historic Limited Edition
With a deep-rooted heritage, Hennessy paid homage to its famous V.S cognac with the release of Historic Limited Edition Hennessy V.S.
The unique design combines the iconic shape of the V.S bottle with the graphical elements of the original 1865 label of Trois Etoiles (Three Stars) Cognac-the name under which V.S was first known.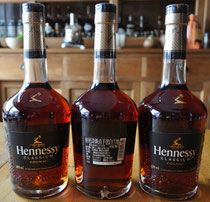 HENNESSY CLASSIVM
Firstly, it is a collection of different and specific Hennessy Very Special. The shape of the bottle is the same but the glass is different as composed of clusters and vines in relief.
In addition, Hennessy CLASSIUM is fairly standard in the development. Indeed, it is in the assembly of eaux-de-vie fruity character brought to optimum maturity in oak barrels for Very Special as well as
selection favoring eaux-de-vie in fresh spiciness that really does not represent our quality Very Special.
However, Hennessy CLASSIUM remains exclusively distributed in China, to the attention of a young urban generation may enter the luxury of an exceptional product.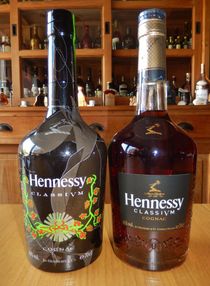 HENNESSY CLASSIVM
Left bottle, This is a non-commerical version from 2008 . This bottles was produced to celebrate the release of the regular version of ClassiVm(2009) in a Hennessy party held in ShenZhen,China(2009-12-24) .The Chinese name of ClassiVm "新点 " have a meaning as" brand-new idea, brand-new landmark and brand-new chapter in Chinese market". This bottle is not for sale and only availble for liquor suppliers and guests who had invited in the 2009 Christmas and New Year Party.There was a total of around 60 bottles produced.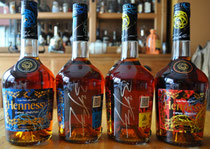 HENNESSY FUTURA
'New York street artist' red version 127.000 copies.
Futura Colette editon my number: N°20/213. Colette Paris~France. This is the store number "213" that is why this edition is limited to 213 copies worldwide (blue version) both are 70cl bottles.
Colette is a French "brick-and-click" clothing and accessory retailer. Very trendy.
Internationally acclaimed graffiti artist Futura has always been ahead of his time. From his early New York days in the 70s, Futura pioneered a movement based on individual style, with dynamic graphics and high energy. Today he remains one of the most distinctive graffiti artists. But though his original approach has made him famous, Futura has never stopped pushing his vision forward.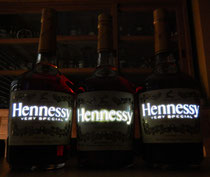 HENNESSY Luminous   2 versions!
Bottle was available in some night clubs (LA, NY, Houston, Miami, Chicago) Ultra limited edition. Works on battery, you have to push the button under writen word Cognac, then it turns on and light up.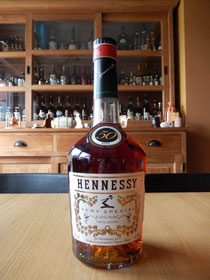 HENNESSY KENYA 

In hounor of the 50th anniversary of Independence.
December 12th 1963.
Limited to 2013 copies.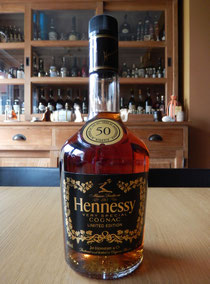 HENNESSY NIGERIA
In honor of the 50th Anniversary of Independance of Nigeria.
October 1rst, 2010.
50.000 bottles released.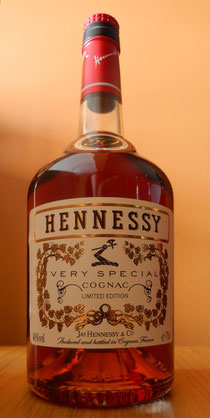 HENNESSY Trinidad & Tobago

In honour, 50th Anniversary of the indipendance of Hennessy Trinidad & Tobago. August 31st 1962. Limited to 48.000 bottles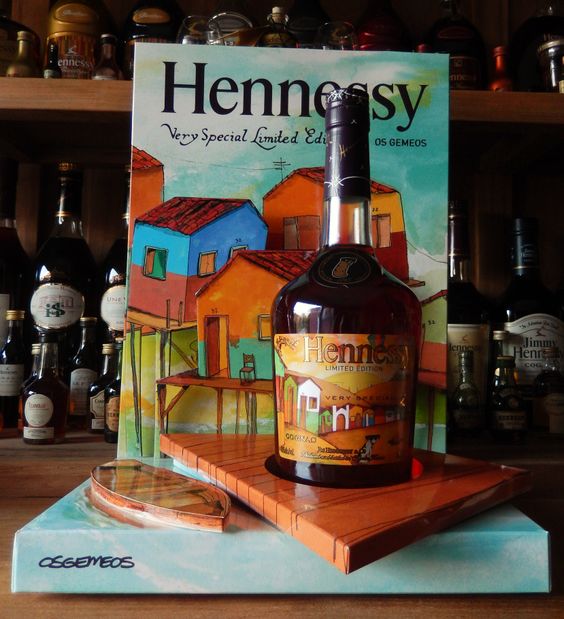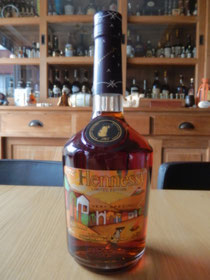 HENNESSY OS GEMEOS
Brazilian-born identical twins Otavio and Gustavo Pandolfo (Os Gemeos translates as "The Twins") emerged from the hip-hop and street art scene of 1980's Sao Paulo to take their place among the world's most respected and recognizable artists
For Os Gemeos, it was in keeping with their boundless vision to design a limited edition bottle for Hennessy V.S. "The label represented a new medium that could carry our message... It was a fluid process for us to go from one format, like the street, to another, like the bottle label." In both process and finished artwork, the Hennessy + Os Gemeos partnership reflects deeply held, shared values: "Hennessy is not just a drink to us, it is history…We take a similar approach in our work—we draw what we believe in, and we aim to preserve those visions."
Just as Hennessy is defined by its origins in Cognac, the work of Os Gemeos is similarly imbued with a sense of place. "São Paolo made us who we are... It was an environment that called on us to improvise." Inspired by their vast and diverse city, and informed by their journey to Cognac, Os Gemeos weave fanciful characters into their colorful dreamscapes. "We live in our dream world 24 hours a day, and our art is a way of putting outside what we find inside. For us, that's what life is about—continually opening new windows."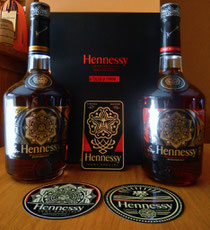 HENNESSY SHEPARD FAIRY
Deluxe limited edition box set 3000 boxes only made wordlwide 750ml bottles. Released august 18th 2014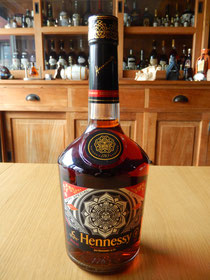 HENNESSY Shepard Fairy regular version Limited to 315.00 copies 750ml from 2014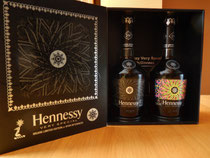 HENNESSY Ryan MCGinness 2015
Deluxe limited edition box set of 3000 copies only!
Content 2 x 750ML.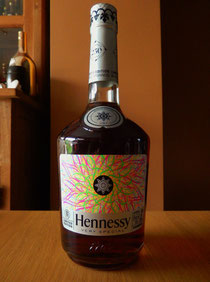 HENNESSY Ryan MCGinness 2015
Regular limited edition 450.000 bottles produced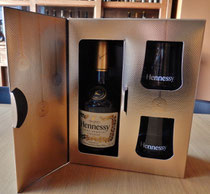 HENNESSY PININFARINA  from 2013
Hennessy launched two premium V.S offerings for the 2013 festive season. Presented in an elegant gold gift box designed by leading Italian design house, Pininfarina, renowned for their work with Ferrari, Alfa Romeo and Maserati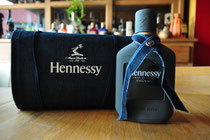 HENNESSY  VS Flask 20cl G-Star jeans bag
The KDU created a special Limited Edition VIP Project for their two clients G-Star Raw and Henessy. This G-Star and Hennessy crossover product, the RAW Flask is a special edition item not on sale in stores. The RAW Flask was on display for the fashion elite visiting the G-Star RAW Runway Show at the September 2010 edition of New York Fashion Week. The customized RAW Flask, containning a bottle of Hennessy V.S cognac is packaged in a specially designed cover and holder of hand crafted selvedge denim. A truly unique collaboration between the prominent French cognag house Hennessy and super specialist denim brand G-Star RAW.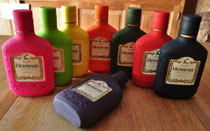 HENNESSY VS Color Flask
Silicone Sleeves 20cl Limited edition. Dark flasks from 2010, the brightly colored flasks from 2011.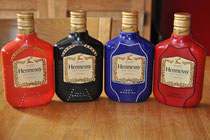 HENNESSY VS Plastic Color Sleeve
A 20cl flask from 2012. Limited editon
HENNESSY VS Silicone Sleeves Color Flask
Released in 2013 in 4 colors. The top has to be torn open this time, as in the 2010-2011 edition you had to lift over the top sleeve. 20cl type bottles Limited Edition.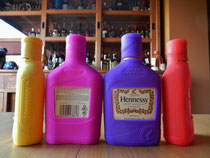 HENNESSY VS Silicone Sleeves Color Flask
Released 2014 20cl type bottles Limited Edition.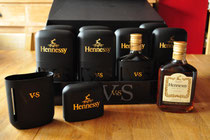 HENNESSY VS Hard Black plastic cover 20cl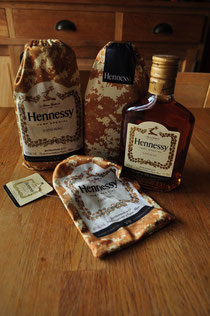 HENNESSY VS  Camo Bag
Bag for 20cl bottle