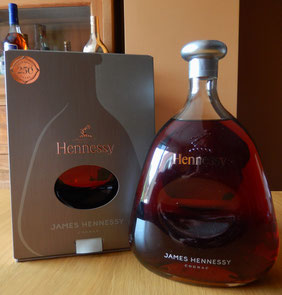 JAMES HENNESSY  1Liter
With this  new creation Hennessy pay out tribute to the founder "James Hennessy' & 250th year anniversary. James Hennessy  spread out and created this N°1 brand "HENNESSY". So this new blend carries his name with pride, an elegant cognac.
Suggestions of mild tobacco and light wisps of smoke combine subtly with toasty aromas. Hints of roasted almonds intermingle and merge with madagascar vanilla to produce soft and delicately perfumed notes.
To celebrate this new blend, the Maison chose to collaborate with interanionally acclaimed designer, Marc Newson.